How to Buy a Vertical Milling Machine
Uncategorized
No tags
No brands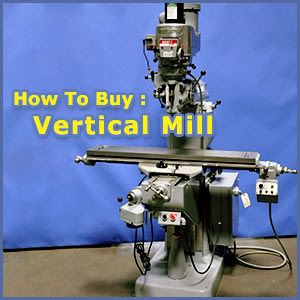 In this video we are going to give you a general idea what a Vertical Milling Machine is and what they are used for.
A Milling Machine is probably the most popular and versatile machine in any shop. Milling machines are used for the complex shaping of metal parts. It's basic form is that of a rotating cutter or endmill which rotates about the spindle axis (similar to a drill, and a movable table to which the workpiece is affixed. That is to say the cutting tool generally remains stationary (except for its rotation) while the workpiece moves to accomplish the cutting action.
We extract or chip off metal by moving the X, Y axis. The Z axis moves downward like a drill press. There are many different tools used with a milling machine to create what type of shape you are going for. 
The workpiece is held in by a vise or rotary table placed on the milling table using bolts held in by t-slots in the table.
Once the piece is secure. You are ready to mill!
Now we will talk about the different feature and options of milling machines.
Let's start with the head of the machine.
There are a few different ways to change head speeds. One option is a belt change, or step pulley machine. This takes a little bit longer and is not recommended if you have many speed changes. To change the speeds more efficiently you can get a variable speed head, which changes speeds as easy as you can turn a wheel.
Probably the most common option would be a Powered table feed. This allows you to feed your workpiece automatically. Power feeds can be applied at any time and can be put on the x and y axis as well as the knee. This saves time work cranking the handles.
Another popular option would be a Digital Read out or DRO. This usually has some type of digital numbering system that shows you your measurements on screen instead of using the numbers on the dials for your X, Y or Z axis's.
Another option would be a Power Draw Bar. This allows you to pneumatically open and close the draw bar with the touch of a button closing the collets without having to use a wrench to open the draw bar manually to change the collets.
Some milling machines have scraped and chromed ways. Chroming adds strength to the ways for less wear and scraping evenly distributes the oil across the ways for a smooth flow.
To make a machine flow smoothly you need a good lubrication system. Options include automatic lubricating system or a one shot lube system.
When shopping for a Milling machine you should look at the key components of what makes a milling machine work and what parts get worn.
Table working surface

Swivel of head

Longitudinal feed of table

Vertical feed of head

Vertical feed of table

Spindle taper hole

Table or knee feed range

Spindle speed range

Distance spindle to outboard support

Maximum distance spindle to center of table
Distance spindle to face of column
CNC Mills are the top of the line. CNC Mills or Machining Centers, which are Computer Numerical Controlled and can vastly speed production and set up time. With a CNC mills you can program your job and the control saves the information to use later, this helps reduce operator error and set up.
We hope you have enjoyed our informational video of what is a vertical milling machine, How to inspect and what options come with milling machines.
Please visit www.sterlingmachinery.com for more informational videos, Brochures, Specifications as well as over 40 Vertical milling machines in stock for sale on our floor in South El Monte California, only 20 minutes from los angeles. 
We also have over 2000 machine tools in stock ready for inspection Monday thru Friday 8-5.
We carry Mills, press brakes, shears, grinders, saws, lathes, presses, rolls and all types of fabricating and chip making equipment.
We hope you enjoyed our video and with over 60 years serving the machine tool industry we hope to see you in the future.
No comments yet.
Leave a comment